MEET THE TEAM
AT
NORTH BROOK EVENTING CENTER
Matt and Kelly Grilz
Matt and Kelly Grilz purchased North Brook Farms from Jan Fisk in 2021 to continue on her legacy of running a premier equine facility. Kelly who is a registered nurse, retired from her full time position managing a surgery center to live out her dream of owning and running a horse farm.
Kelly' passion for horses started at the early age of 9 while riding at Windy Ridge Ranch where she continued to ride for 20+years. During that time not only did she learn how to ride but she also learned a great deal about horse care. Kelly purchased her first horse from Kathy Mueller, who taught her how to start a young horse correctly and during that time, refined her dressage skills. In 2011 Kelly moved her horse to North Brook to train with Jan and try her hand at eventing. Riding at North Brook with Jan has given Kelly many amazing opportunities to better herself as a rider as well as a love for OTTBs. Since then Kelly has continued to ride with Jan Fisk as well as Jenny Zimmerman, Allison Springer, Meghan O'Donohue, and Stephen Hayes and show in both Eventing and Dressage.
Matt enjoys the outdoors, hunting, fishing, and riding his horse Clyde. Matt and Kelly understand the importance of providing top-notch horse care in a fun and positive environment!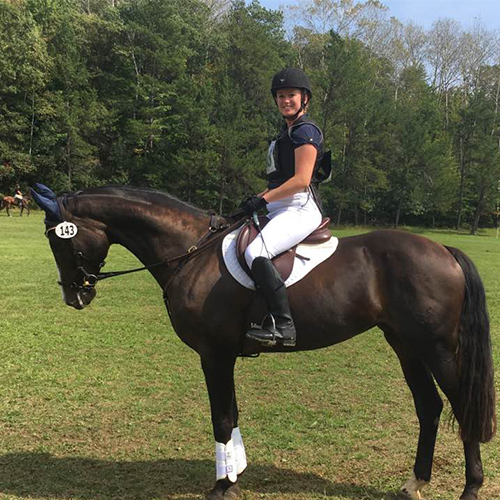 Olivia Caspers
Olivia Caspers is a three-day event rider currently based in Houlton, Wisconsin. She has ridden up through the CCI 2*L eventing level and 3rd-level dressage. Olivia began her riding education at the age of seven at Windy Ridge Ranch, where her passion for horses and their care took root. She then held a working student job with Jan Fisk at North Brook Eventing Center, where her love of eventing, training OTTBs, and teaching blossomed. After high school, Olivia worked for Allison Springer, a talented top-level international event rider, for nearly two years and also graduated from the Junior Development Rider Program with Becky Holder. She recently spent time based at Becky's winter facility and hopes to return. Olivia has worked with Bridget Bursey on refining her dressage and collaboratively worked with her as an assistant trainer at St. George's Dressage Academy.
Olivia is excited to be bringing the knowledge she has acquired to North Brook Eventing Center. Olivia teaches her students by building their confidence, developing trusting partnerships, filling holes in their training, and creating individualized programs for each horse and rider.
Olivia is very passionate about her lifelong learning journey and has had opportunities to learn from talented instructors including Phillip Dutton, Meghan O'Donohue, and Richard Picken. Her personal goals are to continue learning and developing her own talented young horses, with the goal of creating an advanced partnership at some point. Olivia is passionate about equine nutrition, horse physiology, bodywork, and the day-to-day love, training, and care of her horses. She is also currently attending Saint Catherine University in the Nursing program. Her love for science and wound management is demonstrated both in the Nursing program and in her horse maintenance.
Olivia pays constant attention to the small details in her own horses' management, making certain they're turned out well. She enjoys training each horse and looks forward to the valuable lessons each one will teach her.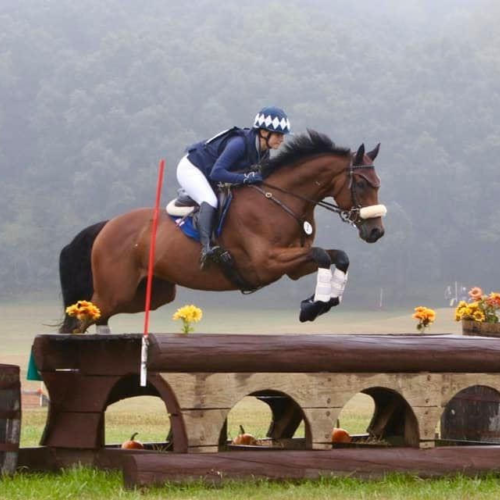 Jenny Zimmerman
The great art of riding is to always keep learning. On every ride and in every lesson, my goal is to share the passion and love I have for horses and to share what I continue to learn.
 I've trained with Conrad Schumacher, Henk Van Bergen, Betsy Steiner, Debbie McDonald, Kathy Adams, Trip Harting. My current training is with Ulf Wadeborn and Marlene Schneider, both of whom are "S" judges. 
My extensive experience with equine and human bodywork provides additional insight into movement and how to help both horse and rider achieve freedom of movement and ride in harmony. 
When you combine this with a strong competitive background, that spans five gaited horses and hunters to eventing, driving and dressage and along with my continuous learning, it provides me with a unique set of knowledge and insight that allows me to help you and your equine partner achieve your goals.

Northbrook is a wonderful facility for both horses and their owners. There are a variety of lessons and trainers available as well as many clinics throughout the year. Our horse has thrived in the environment — top notch grain and hay, excellent pasture, limited numbers of horses in paddock, exceptional stall condition and paddock. The arena is temp controlled with great footing and amazing viewing area. The entire facility is clean and well maintained with coordinated access to farrier, horse blanket cleaning and vet visits. One of the best thing about Northbrook is the caring community of people you get to be a part of. We LOVE Northbrook and appreciate Jan and the team she has put together to care for our horse, and us!
James S., Google Reviews 

I have been at this barn for over ten years now. My horse loves it. Owner is a rider and boards her horses there and her number one priority is horse care. Atmosphere is "seriously fun" riders who show but don't take themselves too seriously. Down to earth, top notch facility.
Teri M., Google Reviews 

North Brook Farm is a true gem of a facility! Jan assures that the horses are so well cared for and her years of experience and expertise are invaluable. Jumping lessons for all levels, dressage, clinics, trail riding, and more are the reasons I'd never consider moving my horse.
Jennifer L., Google Reviews