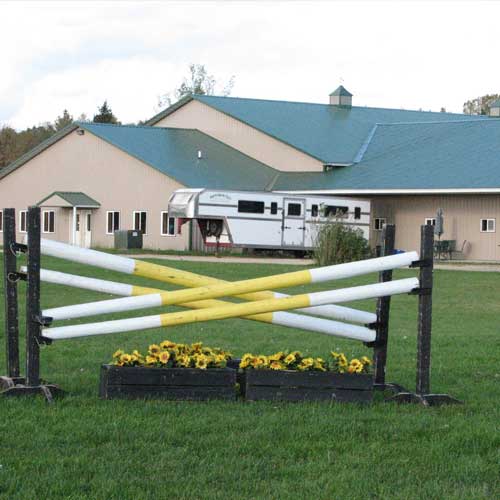 NORTH BROOK EVENTING CENTER
North Brook Eventing Center provides professional level horse care, amazing trail access including Pine Point/Gateway, cross country course with 50+cross country jumps and a water complex, 72×192 warm indoor with huge windows that open, Airfoot footing, grass jumping field, customized feeding program with high quality hay and KER Assurance grain (supplies the US Equestrian Team).  All turnouts have waterers and grass pastures.  Geothermal heated/cooled barn with large well bedded stalls that are cleaned twice a day, 5 grooming stalls. 3 wash racks, laundry/tack room, and a huge lounge with viewing area.
State of the art stall barn has geothermal heating, venting and cooling

Large and airy box stalls, matted, automatic waterers, full grills, dutch doors and many with windows. Four additional 10 x 10 stalls in unheated barn.

72 x 192 warm attached indoor arena with large windows, well maintained Airfoot footing and mirrors

300 x 400 grass outdoor for jumping and dressage

3 grooming stalls, warm water wash stall, farrier work area and outdoor wash racks

Oak board paddocks and electric fenced pastures with automatic waterers and hay feeders

All day turnout with hay and water; compatible small groups or individual turnout

Laundry and tack cleaning room; tack rooms and extra storage room

Large viewing lounge, kitchen and bathroom with shower

Full cross country course for all levels with water complex

Trails on the property plus miles of connecting trails and access to Pine Point Park and the Gateway Trail System

Top quality grain (Kentucky Equine) and hay provided per individual needs; no charge for supplements

Experienced staff to take care of every horse's unique needs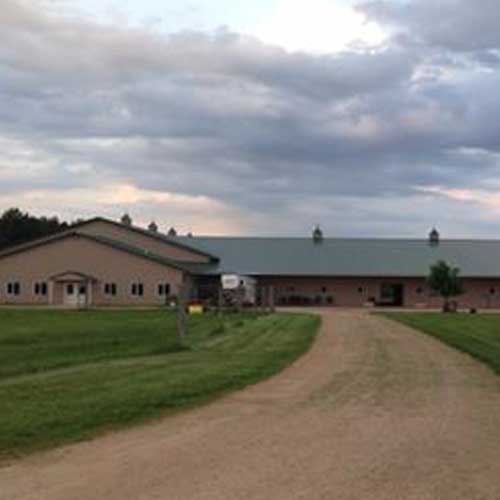 Northbrook is a wonderful facility for both horses and their owners. There are a variety of lessons and trainers available as well as many clinics throughout the year. Our horse has thrived in the environment — top notch grain and hay, excellent pasture, limited numbers of horses in paddock, exceptional stall condition and paddock. The arena is temp controlled with great footing and amazing viewing area. The entire facility is clean and well maintained with coordinated access to farrier, horse blanket cleaning and vet visits. One of the best thing about Northbrook is the caring community of people you get to be a part of. We LOVE Northbrook and appreciate Jan and the team she has put together to care for our horse, and us!
James S., Google Reviews 

I have been at this barn for over ten years now. My horse loves it. Owner is a rider and boards her horses there and her number one priority is horse care. Atmosphere is "seriously fun" riders who show but don't take themselves too seriously. Down to earth, top notch facility.
Teri M., Google Reviews 

North Brook Farm is a true gem of a facility! Jan assures that the horses are so well cared for and her years of experience and expertise are invaluable. Jumping lessons for all levels, dressage, clinics, trail riding, and more are the reasons I'd never consider moving my horse.
Jennifer L., Google Reviews